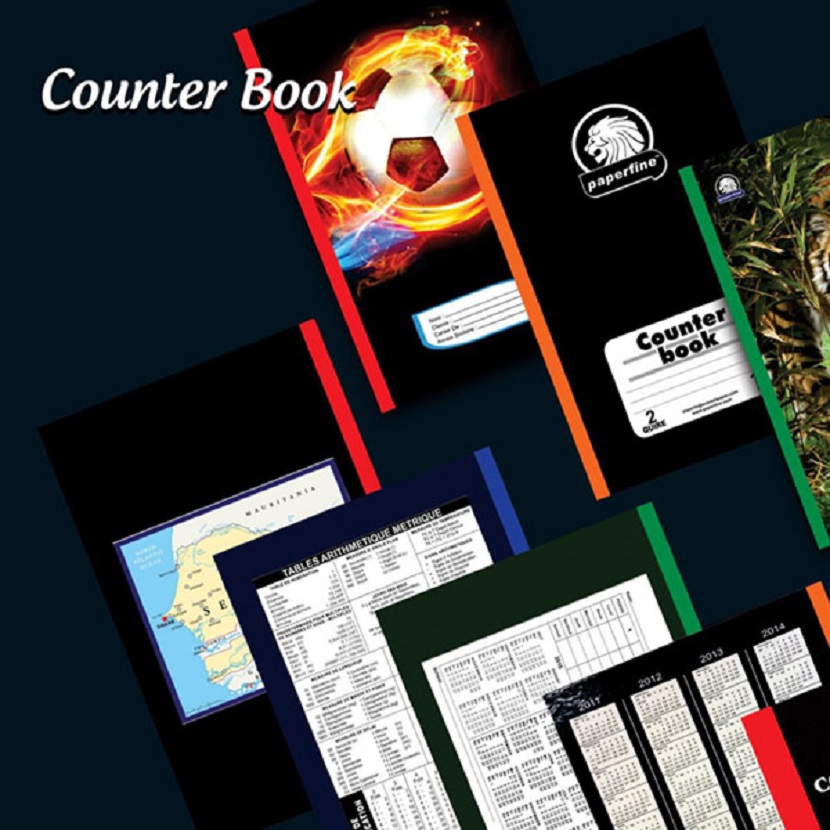 Counter books are straightforward yet incredibly useful instruments used in a variety of professional situations. Counter books are intended to offer a practical platform for collecting data, counting numbers, and keeping track of information. They have a small size and robust architecture.
We will examine the benefits and uses of counter books in several sectors and emphasise how they improve efficiency and organisation.
Benefits Of Adopting A Counter Book:
Arrangement And Precision
An organised and systematic approach for keeping track of transactions is provided by a counter book. Each transaction is precisely recorded since it has separate columns for the date, description, debit, credit, and balance.
By lowering the likelihood of mistakes and omissions, this organisation enables companies to maintain accurate financial records. Business owners may easily track their revenue, spending, and account balances by having a complete picture of all transactions.
Simple Referencing And Retrieving
Finding and obtaining precise information is made simple with a counter book by a Counter book Manufacturer in India. When looking up previous transactions or double-checking information, the chronological order of transactions makes it easy to go back.
By making information more accessible, time is saved and the irritation of sifting through mountains of paperwork is reduced. A counter book makes sure that crucial financial information is easily available, whether it's for tax purposes or settling inconsistencies.
Cash Flow Control
Any business's ability to handle cash flow effectively is essential to its financial stability. A counter book provides a detailed record of all cash inflows and withdrawals, assisting in the analysis of cash flow.
Businesses may spot patterns and trace the sources of their money by meticulously recording their costs, sales, and payments. They can also spot places where expenses may be cut or profits can be raised. This knowledge enables companies to plan their cash flow effectively and make educated financial decisions.
Fraud Avoidance
A counter book can assist organisations to reduce the risk of fraud, which can be quite dangerous. A counter book serves as a deterrence against fraud by meticulously documenting all transactions and keeping a clear auditable trail.
It is simpler to spot any differences or abnormalities, which makes it more difficult for fraud to go unreported. The usage of a counter book encourages responsibility and develops a transparent culture inside the company.
Cost-Saving Approach
A counter book offers a cost-effective option for organisations, particularly small firms or those with limited resources. A counter book has little initial expenditure and doesn't have ongoing membership fees or maintenance expenses, unlike complicated accounting software. It is a one-time investment that offers long-term benefits and satisfies many firms' fundamental record-keeping requirements.
Accessibility And Clarity
Utilising a counter book has several benefits, one of which is its ease of use. To utilise it efficiently, neither considerable training nor technical know-how is needed. A counter book is simple to comprehend and use for anybody with a foundational understanding of accounting.
Additionally, because it is not dependent on energy, internet connection, or software updates, it may be used anywhere. Even in distant locales or places with poor technical infrastructure.
Applications of Counter Books:
Selling And Buying
In the sales and retail sectors, counter books are widely used. They can be used by cashiers and sales representatives to keep track of inventory levels, and total sales, daily transactions.
Counter books' ruled pages and columns make it possible to enter sales data precisely and in an organised manner. This makes it simpler to track sales performance, spot patterns, and reconcile cash at the end of the day. These records are also a trustworthy source for managing refunds, tracking consumer transactions, and resolving any problems.
Services in Hospitality and Food
Counter books by a Counter book Manufacturer in India are essential in the industry of hospitality and culinary services. They may be used by waiters and bartenders to collect orders and record special requests from patrons. Counter books are small enough for waiters to carry with ease, preventing any orders from being overlooked or forgotten.
Counter books help manage inventory, keep track of food and beverage waste, and accurately record daily sales. This helps with cost control and inventory management.
Trade and Construction Services
For many different objectives, counter books are frequently used in the construction and trade services industries. They can be used by contractors, builders, and tradesmen to maintain project deadlines, record measurements, and list material amounts.
Counter books are appropriate for use in difficult areas, such as building sites and workshops, due to their sturdy design. Counter books help with project management, client communication, correct billing, and invoicing by recording important information and progress updates.
Event Management and Planning
Counter books help coordinators and event planners keep organised when organising and running events. They can make checklists for important activities, scribble down event information, and record vendor contacts.
Counter books offer a centralised location to organise RSVPs, keep track of guests, and record logistical details. Counter books' portability enables event planners to bring them with them to the venue. This guarantees that crucial information and last-minute alterations are easily available during the event.
Management of the Warehouse and Inventory
Counter books are useful tools for maintaining stock levels, performing audits, and controlling shipments in warehouses and inventory management. They may be used by warehouse managers to keep track of incoming and exiting inventory, stock movements, and order fulfilment.
Services for Professionals
Accounting, law, and healthcare are just a few of the professional service sectors where counter books are used. They can be used by professionals to keep track of billable time, register client interactions, and record critical information.
It is simpler to go back to particular information when using counter books, which offer an organised style for note-taking. They facilitate effective communication, guarantee correct documentation, and help uphold industry standards.
Conclusion
Counter books are useful in many different sectors and improve productivity in a variety of work environments. These small, adaptable tools are essential for capturing and managing data in a variety of industries.
Counter books continue to be useful tools for encouraging organisation and simplifying operations because of their simplicity and usefulness.