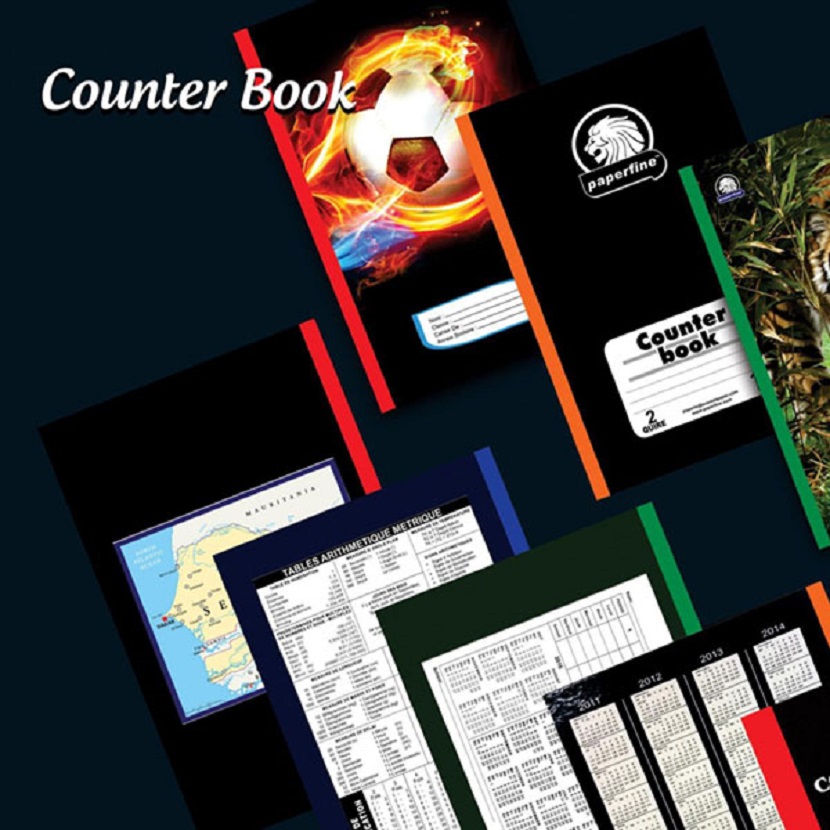 Counter books are single-ruled books generally used for taking notes and recording data. Counter books are widely used in schools and colleges. Traditionally counter books were used for the recording of financial transactions in business houses, government offices, etc. With times, demand for such counter books has been limited to schools, colleges, retailers and shopkeepers. Several Counter book manufacturers in India are offering these books at affordable rates.
These counter books are helpful in the recording of various notes on daily basis, related to financial transactions by various shopkeepers and retailers. These counter books are specifically designed by making use of quality materials with global standards. These counter books are available in different sizes and designs as per the requirements of the customers. These counter books are available at market-leading prices.
Here are some of the benefits of using Counter books in Daily Life
Elegant Design and patterns
These counter books are available in different patterns and sizes as per the requirements of the customers. These counter books are available in different patterns, designs, styles and sizes that serve the basic needs of the customers. Due to their elegant design, these are widely used by collegegoers.
Economic
These counter books are available at economic rates and are available with the excellent paper quality. These books can be customised for different users and can be affordable for college-goers and retailers. Due to affordability, it has numerous usages and is widely used in the country.
Excellent paper Quality
These counter books have an excellent paper quality that makes them outstanding and can be used for various purposes. The records kept in these counter books can be used for a longer period and can be beneficial for record keeping.
Easy to Use
These counter books are easy to use and can be used by anyone of any age. These counter books can be maintained easily and can be used for verifying various records in the future for past transactions.
Importance of Using Counter books
These counter books create a habit of writing and also improve memory power. Thus, counter book usage will never be reduced. There is a lot of content available in the present world and it becomes difficult to remember. Therefore, counter books can also be used as journaling for writing ideas and day-to-day happenings in life. However, counter books have importance in human life.
Makes Accountable
Using counter books unlike Macbooks or digital devices makes people feel accountable to write down notes, journals, etc for future usage. Writing also allows users to absorb the information far better than typing it on a digital device. Another benefit of counter books is that it aids in improving the writing speed and handwriting of the user. Writing allows us to enhance our hold on language, grammar and spelling too.
Improves Day-to-day Routine
The habit of journaling, writing ideas or jotting down day to day list of activities in the counter book will allow the user to become productive in their everyday life. The user can write down vital information safely ensuring that they can go back to it if and when the need arose. The user will feel organized and stress-free as they know exactly what they need to accomplish within the day.
Since our memory is not reliable, we often become forgetful of important things that need to be done within a day. This could lead to a lot of stress and may sometime result in loss of opportunities.
Helps in Turning Ideas into Actions
The habit of journaling and jotting down ideas also helps in creative endeavours where users can go back and look out for the varying list of ideas that could be utilised for their professional or personal use. The user can then utilize these ideas to make the most of the current opportunities that have presented themselves.
Sometimes when we tend to get a creative idea in the most awkward situation that prevents us from taking action at the same time. Therefore, jotting down ideas in the counter book will help us not only remember the idea but also ensure that we take action in the same direction. Every great writer knows this fact and you can see that they carry counter books with them because they know that they cannot predict when an idea will strike them.
Easy To Carry
The USP of using counter books is that there is user- friendly and convenient to carry around in any desired location. The users can carry counter books without much hassle to temporary spaces offices, classrooms, libraries, businesses etc stress-free. The soft-cover counter books can be carried in school bags or office bags without taking up much space.
Multipurpose
Counter books are known to be multi-purposed. These books can be utilized in classrooms, offices, libraries, etc, you name it. Unlike Macbooks, they are not going to run out of their batteries and therefore you can use them as and when you desire. They do not need to be recharged, unlike digital devices and are therefore very handy to use.
Enhances Cognitive Health
Counter books are preferred over digital devices in schools, colleges, etc, owing to their ability to enhance cognitive health within users. It ensures that users do not develop mental health issues as they can express their emotions, ideas, etc within the piece of paper. Writing down thoughts will allow the user to track their feeling and emotions in check and seek medical help if they require it.
To conclude, using counter books over digital devices offers tons of benefits to the user. You can easily find all different brands, sizes, colours and designs of counter books on online and offline platforms. Counter books are reasonably priced and convenient to use. Counter books may be ordinary, but they can help users to unlock endless possibilities within themselves.
However, using high-quality counter books will aid users to make the most of the advantages of counter books. You can buy high quality counter book for everyday use from counter books suppliers online at competitive rates.